Primary
Children are given the opportunity as a class to learn the mandolin and the violin. They also play the recorder and participate in both percussion and instrumental work. The upper Primary classes also study the Theory of Music, following the ABRSM course.
Secondary
The school offers music up to Cambridge IGCSE level. The lower classes explore the ingredients of Music, through instrumental and project work, and have the opportunity to compose their own music using the Music Department's electronic keyboard facilities. For the IGCSE course the students study Western and World music. They continue Composition using the latest SIBELIUS computer program and are given many opportunities to perform, including at the annual Cambridge High Achievers Awards ceremony.
Music Clubs
Primary Music Theatre Club
This club gives the children training in music, movement and drama. They are also given the opportunity to participate creatively in all aspects of the performances, including script-writing, set design and directing.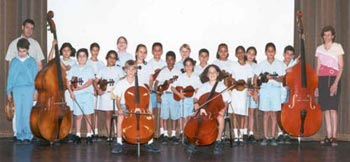 Secondary Choir
The students learn a large repertoire of songs and styles of music. These include madrigals, sacred music, pop music, jazz and songs from Musicals. Training is given in Part-Singing and the students have performed both two and three part songs. There are many opportunities for the Choir to perform both in and outside school.
Secondary Orchestra
Here the students learn the skills of ensemble work, playing pieces from both the classical and the modern repertoire. They also take part in the annual marching parade as a marching band and participate in many performances.
Talent show
This is the highlight of the year for many students, the chance to show their considerable talents in music, dance and drama.
The final performance is of a very high standard and the winning acts go on to participate in the Interschool Talent Show organized by the Falcon.
Instrumental private lessons
Private tuition is offered for various musical instruments and theory of Music. Students are prepared for the ABRSM exams.